As I write this entry, I am sitting in the middle of Tropical Depression Ernesto, which is not blog-worthy. More interesting right now is Hurricane John, which is about to hit Cabo San Lucas and other parts of Baja California. Hurricane John got me thinking: could tropical cyclone could make its way up the coast and strike San Diego or Los Angeles? The answer, it turns out, is yes — it's already happened.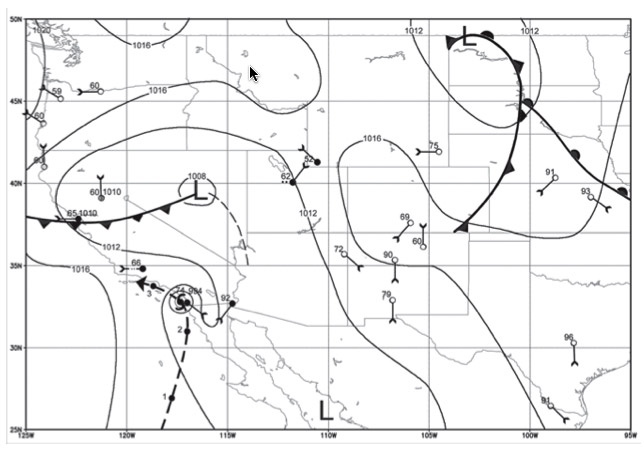 I found this incredibly interesting report by Christopher Landsea, Ph.D. He did research into a very strong storm that hit California in 1858 using weather data collected by the US Army. You can see on his map above that the hurricane likely brushed against the coast from San Diego all the way up to Los Angeles.
It's not every year that such a hurricane can make it up to California, but certain conditions do allow it, as documented in Landsea's report. Higher sea surface temperatures and a conducive atmosphere are what likely allowed a category 1 storm reach Southern California. What caused those higher temperatures? El Niño. Landsea concludes:
Many years with tropical cyclone remnants reaching the southwest United States are El Niño years. During these years sea surface temperatures rise along the western coast of Mexico and the United States, thus, allowing tropical cyclones heading toward the region to maintain intensity longer than usual. Corals from the tropical Pacific indicate that 1858 was a warmer year than either 1857 or 1859, but there is no firm historical documentation of an El Niño event that year.

[…]

The implication of this current work is that a hurricane has directly impacted southern California in recorded history and, under the right circumstances, will again hit the region. One recent system had the potential to duplicate the track and impact of the 1858 hurricane. Hurricane Linda of 1997, during a strong El Niño event was forecast by the National Hurricane Center for a couple of advisories to make landfall near San Diego as a minimal hurricane or strong tropical storm. Fortunately, this storm weakened and turned back to the open Pacific Ocean without impacting land.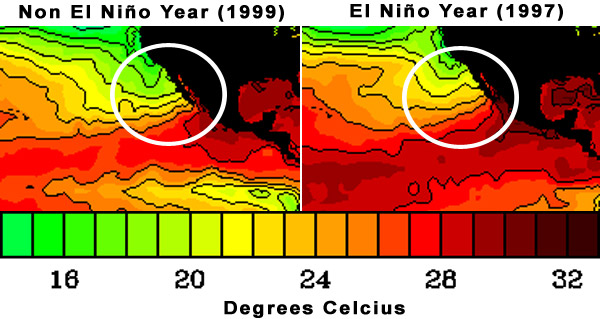 I looked up some sea surface temperatures for 1999, a non-El Niño year, and 1997, one of the strongest El Niño years. When you compare the sea surface temperatures going up and down Baja California during the El Niño year, you can see that the water would be much warmer, and thus more able to support a hurricane. Although
sea surface temperatures of 26.5 degrees Celcius are required to sustain a hurricane
, it's certainly not inconceivable that a very strong storm like Hurricane John could form south of Mexico and maintain its intensity long enough to batter Southern California with hurricane force winds.
Making the scenario of a hurricane landfall in Southern California even more probable is the rise in sea surface temperatures, most likely caused by global warming.